My skills as a Master of Ceremonies were called upon again at Artisan's Asylum for another robot competition this past weekend.  It was a blast, and people of all ages came by to see both remote-controlled and autonomous robots compete in the Cochran Combat Corral.  As I was up the previous night with Rob Masek until 3:30 AM fixing the Cochran Combat Corral Controller (the timing system), I was a bit tired, but there were a LOT of spectators of all ages, and attendance was a lot bigger than last time.
Some great video has been posted on YouTube here and here.
Some of the funniest moments were with the 'bot Eeenie Meenie Miney Moe – it's mechanism (designed to flip other robots over) was such that it made it look like it was mocking the other robots (until it got its arms ripped off, that is).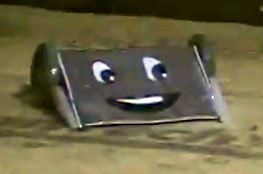 There were a few small Zumo bots that were completely autonomous, and that were designed for robot sumo wrestling. The nice thing about those robots are that they are relatively the same, and it is the robot with the best programming and sensor setup that can get the upper hand in the competition.
Fully autonomous robots in the big arena are next on the agenda.
More about the competition (from last time), the amazing (please-don't-leave-or-the-plants-will-die) Rob Masek (and the CCC) is here.